New CD avaiable!


Album Review: The Pulsators — Let's Play! From Petaluma, California comes the six-piece band The Pulsators. The band is led by drummer-vocalist Johnny Campbell, a musician who came to my attention as a member of late' 70s new wave group The Impostors. That group's story is featured along with the stories of 28 other artists in my new book, Disturbing the Peace: 415 Records and the Rise of New Wave. But there's nothing new-wavey about The Pulsators. Campbell is the group's songwriter, and his songs display a variety of styles. The brief introductory track features some ambient sounds and gently picked guitar, but those elements don't suggest the character of the rest of the album. The songs showcase vocal harmonies that suggest an appreciation for the Beach Boys, but the arrangements feature harder-edged playing and a robust horn section. The latter gives a slight Springsteen vibe to the songs. Campbell's assured lead vocal work has a nicely lived-in feel to it, and the shouted choruses on tunes like "One Fine Day in Memphis" display a warm heartland character. Let's Play! seems to set out to be a musical travelogue, and it succeeds in that goal. New Orleans style boogie-woogie piano is at the core of "Dirty Again." Subtle south-of-the-border horn licks decorate "Good Time Feeling." "When the Time is Right" has a classic dance floor vibe. "Fool" stacks even more chorus vocal atop a wistful melody. Reggae textures form the basis of "Be the Change." And in the tradition of classic answer songs, Campbell's original "Let the Good Times Roll Again" is a return trip to New Orleans. John Farey's stellar, expressive keyboard work is a highlight of the entire album, and it's showcased most brilliantly on this track. After effectively putting across a party vibe for most of its run time, Let's Play! ends on a contemplative note with the lovely, waltzing "A Different Light." When the second lead vocal joins for later verses, it adds an intimate quality that serves as a heartfelt set-closer for this solid set of 13 tunes.

The Pulsators LIVE! CD is sold out but available in digital format online on Apple Music
Listen on Spotify



Recorded Live at the Last Day Saloon, Santa Rosa, CA

Song List:

Can't Put You Down
Love Dog House
No Trouble
Lowdown
Back To Louisiana
Back It Up (New!)
Rudy
Sum A Dat (New!)
Woody
Iko Iko
Let Me Love You


"I've been knowin' Johnny and these cat's for a long time. They sound as good as me! I always knew they were cold blooded and throwin' bricks. Check these dude's out!" Art Neville NOLA
---
CAN'T PUT YOU DOWN AVAILABLE NOW: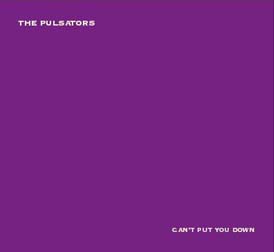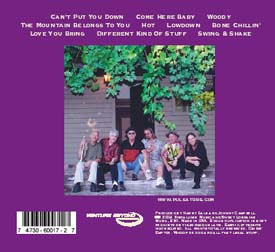 MP3 DOWNLOADS:
Woody
Can't Put You Down
Lowdown
---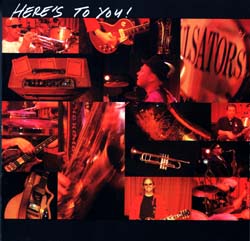 All words and music written by Campbell, except songs 2 &10 written by Campbell, McKenzie, and Whittington. Song 4 written by Campbell, Gilroy, McKenzie, Whittington, Shuster and Griffith.
Art Neville appears courtesy of Columbia Records.
Here's To You! CD is sold out but available in digital format online at CD Baby!
(They might have one or two hard copies left.)
Venture Beyond Records


The following are in MP3 format.
Bumpy
Back To Louisiana
Off the Shelf
Wall Of Stone
CD's are available at The Pulsators' gigs. Talk to Phyllis, she can set you up with CD's, T's and other Pulsator paraphernalia.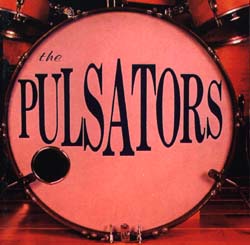 All songs written by Johnny Campbell except LoveDogHouse written by the Pulsators. Song 3 written by Campbell and Shuster.
Recorded at Prarie Sun Studios in Cotati, CA
Venture Beyond Records

1. E.O.C., Piano: Stu Blank
2. Heaven, Percussion: J.C. and Jeffery Sloan
3. Heart of Reaction,
4. Dancin' Mood
5. Look to My Left, Percussion: J.C., Jeffery Sloan and Ian McKenzie, Organ: Steve Buck
6. LoveDogHouse, Additional horns: Al Garth, For Hapster
7. I've Got a Feeling, Extra guitar: Dave Carlson, Backup Vocals: Robin Jenkins and Moira Marquis
8. Take a Chance, Arranged by: the Pulsators, Steve Peterson and Eugene, Bass: Mooka Renick, Percussion: Bill Griffith and J.C.
9. Can't Walk Away, Arranged by: the Pulsators and Eugene, Organ: Steve Buck, Dedicated to Clive
10. Close to the Fire, Percussion: J.C. and Jeffery Sloan
11. Same Old, Same Old

CD available at:
SOLD OUT. Only available as download at CD Baby
Top